FranceTV Lab: testing new tools in the lab first to facilitate adoption in the newsroom
In the lab, FranceTV tests new tools and learns how to use them before introducing them to the newsroom. A way to spread the digital culture among journalists, who tend to be conservative and not always open to new ways of working.
France Télévisions is the French public broadcasting organisation based in Paris, with over 10 000 employees. Grown out of a small innovation department that existed within France Télévisions since 2010, the media lab was created in 2016 with a triple mission:
Test new tools that could be useful for the newsroom and for developing audiences;
Connect television and online journalists, developers, designers, and start-ups;
And help the newsroom become more accustomed to digital challenges through training, knowledge sharing and best practices.
A lab needed to be created to get closer to the newsroom and to have an actual team:
"I'm most proud of how the lab is working with the newsroom on the one hand and with developers and designers on the other hand," says Eric Scherer, Director of the Digital Innovation department and Head of FranceTV Lab. "The lab is part of the newsroom. It's a real beginning of co-working between engineers and designers, and journalists and reporters."
Testing tools
As the lab doesn't have any developers itself, they work closely together with the innovation department to develop the tools. The team of three journalists and trainees tests tools and learns how to use them before deciding whether to introduce them to the journalists:
"We try and test tools. If it's a good tool we will present it to the newsroom. If they're interested they buy it. If not, we throw it away," explains Eric Scherer.
Even when the tools are not adopted by the journalists, the lab's work remains useful. It helps France Télévisions to stay aware of the innovations in the audiovisual sector, sustain a dialogue with the start-up ecosystem and become accultured to the digital challenges that the media need to face today.
However, Eric doesn't see that it has become any easier to introduce new tools to the newsroom compared to 2016, when they first started doing this: "It's still very difficult, because journalists are always in a rush; they have no time to try new things."
Although it depends a lot on the individual journalists:
"It depends on the digital background of every journalist, if they like it, if they're young. It's not connected to specific departments. We just have to know those individuals and let them be our ambassadors in the newsroom."
New formats
Trying to create new formats and tools to reconnect with audiences; that's the goal. Examples of projects include the use of datavisualisation technologies during the electoral nights on the news channel franceinfo, in partnership with Microsoft, and a serious game app called Ma Campagne, developed with journalism and design students, that reached 35.000 downloads. As the lab doesn't have a dedicated budget, it works with partners inside and outside the company to develop these projects.

For example, with the Presidential elections in France last year, the lab worked together closely with the newsroom on a Virtual Reality project. In this VR application, all candidates had their own avatars that allowed voters to 'meet' the candidates, discover their programmes and have access to all of their media appearances. Users of the app could also take a virtual tour of the Palais de l'Elysée:
"The immersive technologies created a setting for a relationship where the user was an actor in the meeting and could get very close to generally unapproachable politicians."
Learning and training
Unfortunately, not a lot of people in France were aware of the application, so few people actually used it. On the bright side, the FranceTV Lab team learned a lot about VR technology:
"The app reached a quite restricted audience compared to our other TV and digital contents on politics. But we still reached our goal, which was to show that France Télévisions is able to offer innovative news formats."
Drawing on this experience, the team keeps exploring the editorial applications of new technologies and is now training journalists who want to work with 360° video; teaching them the rules and best practices of this format.
That expertise is also useful for other media companies. When the lab learned how to use Snapchat to produce media content for example, they were not only able to train journalists at France Télévisions, but also elsewhere in Paris and France on how best to use the platform.
Bridges inside the company
Being the head of both the Digital Innovation department and the media lab makes it easier to build bridges between different parts of the organisation, says Eric Scherer:
"It's exactly the right opportunity to build bridges between the digital and the rest of the company, which is very difficult. Digital is always separate and it's 1 km away from the office. So this bridge is a concrete bridge between the digital and one of the traditional departments, which is the newsroom."
However, the lab's work seems more visible outside of the company than internally. While their meta-media blog gets 50.000 views on average per month, most France Télévisions journalists do not really read it:
"In French we say 'nul n'est prophète en son pays'. We'll start sending out a newsletter soon, and we have to organise more physical meetings at different news departments within our company. We are not doing it enough. Going forward, we will be more inside-looking, to share more with the newsroom."
CONTACT POINT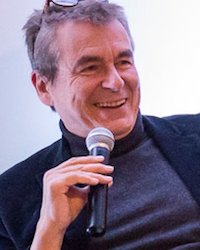 Eric Scherer, Director of the Digital Innovation department and Head of FranceTV Lab, France Télévisions
Web: http://www.francetelevisions.fr/lab
Twitter: @EricScherer
Tags:
France
Immersive
industry collaboration
tools
training and education