Nordjyske Startup: incubator within the second oldest media company in Denmark
Since the start of the innovation lab in January this year, two startups have moved into the Nordjyske Medier building in Aalborg. In return for new ideas and knowledge, this Danish media house offers them its expertise and network to develop their businesses further.
Nordjyske Medier is one of the biggest regional media houses in Northern Denmark. In its 250 years of history it has been at the forefront of innovation, with the creation of the first 24-hour television channel in Denmark and it's objective to "ensure freedom and independence through a profitable operation based on innovation and dynamics."
Innovation is key in the media industry today, as it is in many others. But a lack of resources within media organisations can limit their possibilities to invest in research and development. Nordjyske Startup invites students and startups to come and work with them on topics that Nordjyske Medier is interested in, ranging from AI, big data and virtual reality to location-based services, community reporting and business models.
"It's quite hard to be in the media business," Innovation Manager Katja Bundgaard explains the reason for starting the incubator. "We are struggling to make money on news. So we know we're forced to make new products. And because every employee in this company is working a 100% already, we need to get inspiration from outside. And we think that if we can get some startups who know something about stuff that might be a new product, that would be a good way, and a cheap way, to get cleverer."
Together with Innovation Manager Mette Kjul Pedersen, she is responsible for Nordjyske Startup.
Knowledge exchange
In return for new ideas and a different mentality, the startups benefit from the media company's extensive network, office space and expertise to facilitate the development of their ideas. Furthermore, Mette and Katja would like to create a collaboration with students, who could research these fields of interest more deeply and bring new knowledge to the company: "We think of it as a knowledge exchange. So they know something that we maybe don't know or don't have the time to research and we learn from them. And they learn from our competences as well as an old media house."
Specifically, the startups can walk into Nordjyske Medier's marketing, sales or human relations offices whenever they have a question and their advisory board challenges them to think about basic elements of running a business that they had not considered before. "What is most valuable for the startups is definitely the advisory boards," says Katja Bundgaard. "And we're also offering a personal mentor for personal development. Not about the project or about the idea, but for the personal development."
New ideas for the media industry
From the ten applications they received since January, two startups have been selected. One is working on a platform for recommendations about where to live while the other one is matching students with jobs. Although their ideas are not completely related to the fields of interest defined, Mette Kjul Pedersen believes that their specific approach and mentality bring a lot of value to Nordjyske Medier: "We thought that learning from the mindset they have when they go into platform innovation could be healthy for us. And we also want to get the effect on our company culture from the young startups."
Mette and Katja hope to bring in more startups that are really working on their areas of interest, but it is a challenge to find media tech companies in Aalborg. While there are many financial tech, green tech and technology startups in the city, the local university does not have a journalism program and so students are not really in their business. "I think that if we would have been situated in Copenhagen it would have been easier," Katja Bundgaard admits.
As a solution, they are looking to collaborate with the university of Aarhus. They have been bringing in journalism students from Aarhus, which is 1.5 hours away: "We have paid for their hotels while they were doing their project here, so we can do that. We can pay them for hotels and trains and whatever they need. If they have the right idea, we're willing to do that."
A fun work environment
Besides collaboration with universities and bringing in students and startups, Katja and Mette also want to work on the office environment, making it more creative and less boring. Their role as innovation managers is to inspire the startups. They not only do that through writing about innovation and organising relevant workshops and events, and inviting speakers:
"We hope to make a really positive learning environment for the startups. Because they say that's actually also very valuable. To talk to other people in the same situation. So we want to make a more creative office space. We want to have four startups actually, that's our personal goal this year. And we want to make them cooperate between the startups, so they can use each other."
They are convinced that they have a lot to offer media-oriented startups in the development of their ideas and have received very positive feedback from the startups so far: "They love it!" according to Mette Kjul Pedersen, "They think that it's so nice to have access to different competences and do not to have to think about the practical stuff and only think about their business."
CONTACT POINT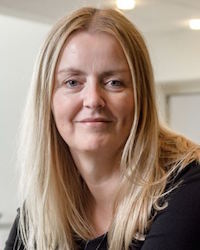 Mette Kjul Pedersen, Innovation Manager, Nordjyske Startup
Web: www.nordjyskestartup.dk
Twitter: @Mkjul
Tags:
business coaching
Denmark
incubator
media house
startups
students