Our latest media lab piece comes from Professor Paul Egglestone, Head of School of the Creative Industries in the College of Human and Social Futures at the University of Newcastle, Australia. Egglestone is a founding member of the Global Alliance for Media Innovation and formerly founder of the Media Innovation Studio at the University of Central Lancashire. Here, he describes FASTlab: a new hub for creative and transdisciplinary innovation and creation. Egglestone outlines its aims, work and future impact, and shares thoughts around how the news media could benefit from collaborative and community-based approaches to real world challenges they face, and create sustainable and thriving operations in the future…
Imagining better:  Future Arts, Science and Technology laboratory
The Future Arts, Science and Technology Laboratory – FASTlab – is home to great ideas inspired by bringing together the brightest people to figure out how to make things better. We know that imagination is the foundation of creativity and innovation. We celebrate the unique quality of our humanity through our creative ability to imagine things that don't exist yet and our capabilities to turn what we've imagined into something real. Something better.
We are alive in a time when the world as we knew it, together with our faith in the future, is disappearing. New uncertainties for individuals, society and the planet are now hallmarks of the so-called Anthropocene – the 'New Normal'. If we are to attain sustainable economic growth alongside balanced social and environmental development, we need to radically rethink how businesses, government and NGOs can create value through creativity and innovation. Creativity that is rooted in sustainable social, economic, environmental, and cultural practices.
Open to collaboration with media…
This is potentially furtive ground for news media organisations traditionally charged with holding those in power to account and providing us with the information needed to make informed decisions. It provides an opportunity for a journalism that recognises its own existential crises and cannot be separated from the need to create a sustainable society, ecologically, economically, and socially. It calls for a journalism that understands and accepts its 'social licence' – that implicit basic permission society gives to any corporate organisation to conduct its activities – will be increasingly threatened if it fails to adequately address the sustainability challenges facing humanity.
Whilst this is challenging for traditional journalism rooted in the news values of proximity, immediacy, negativity, and sensationalism, FASTLab is committed to working with media companies in Australia and internationally to expand its role and in doing so its potential relevance in society by helping news organisations reimagine how they might actively contribute to the sustainable transformation of society. We know this is possible without compromising commitment to the pursuit of truth whilst offering media companies a chance to renew its social licence with the public.
but not only…
FASTlab was created to explore the potential of human emotion, happiness and play, open doors for non-traditional collaborators, and commercialise lateral thinking.  Unique in Australia, we are a translational research hub, specialising in providing opportunities for community and industry partners to participate in research projects that provide tangible outcomes and solutions to real-world problems quickly.
Our work so far demonstrates that all organisations – social enterprises, for profit businesses or government departments – can benefit from FASTLab's unique ethos.
Our research brings together academics, practitioners and industry partners from a range of different fields. We work jointly to develop and use novel conceptual and methodological approaches that leverage discipline-specific perspectives, theories, methods, and translational strategies that deliver innovative responses to real world problems.
We do this from our home in 'Q' building on the quayside of Newcastle's Honeysuckle Drive. Built using sustainably sourced, cross-laminated timber, the facility is encased in 344 Sage thermal glass panels – the largest installation of this highly technical and environmentally friendly material in the southern hemisphere. Its open structure enables a fluid exchange of ideas across a porous space. Interactive displays and monitors dotted throughout enable FASTLab to expand collaboration beyond its glass shell to visitors, colleagues, and the wider community. It's a space that embodies our vision of how to do 'R&D' without the usual physical boundaries and with brilliant facilities to workshop, invent, create and make.
We have been building a vibrant culture of 'learning by doing' creating several pathways for organisations, researchers and creatives to engage with us and each other. Working with external research partners using our own blended learning model we've developed a low-cost series of concentrated learning events that enable students and researchers to see the positive impact that they are making through research and development. Our approach ensures they are part of a process of change as well as developing their learning and experience.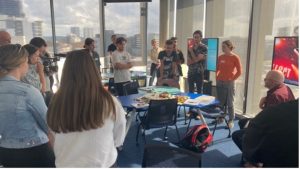 Delivering change needs skills in empathy. Our researchers and our students develop their abilities to work across sectors and cultures bringing different perspectives as they build relationships and plan workshop interactions that support change. We understand the need to include communities, stakeholders and wider audiences in change using creative communication skills to engage and influence them in the process.
The Clyde Street Precinct offers a grounded example of how we are helping to make this happen locally by adopting a 'bottom-up' approach to the development of a creative ecosystem within which artists maintain a thriving, sustainable practice, and citizens are imbricated as co-creators of community facilities and liveable city landscapes. The Clyde Street Precinct is a large industrial warehouse complex close to the University of Newcastle's City and Callaghan campuses. The previously abandoned site now accommodates 65 artists and creative practitioners drawn from across the broad range of creative industries, such as jewellery and fashion design, music recording and production, fabrication, multi-media, performing and visual arts, design and illustration, lead lighting, bookbinding, stone masonry, film, technology and experimental electronic art. The organic development of this ecosystem, with artists working alongside waste rescue not-for-profit organisations and car hire businesses, has ensured an innovative and sustainable example of a 'creative economy'. While the cultural and geopolitical context of is localised to FASTLab's Australian home city of Newcastle, this area's evolution from a coal-port towards a cosmopolitan city is part of a broader trend of industrial towns navigating their own progression towards thriving, liveable cities.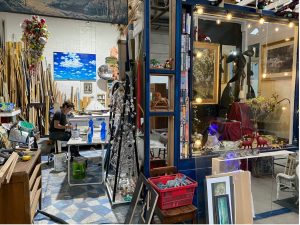 Partnering in research with real-world impact:
In a post-industrial era, competition is not just about the pursuit of efficiency. Attaining sustainable economic growth and balanced social and environmental development needs a paradigm shift on how businesses, government and NGOs can create value through creativity and innovation. This level of innovation involves breaking free from conventional thinking about what kind of researchers should be involved in problem solving particular issues.
FASTLab is committed to research that delivers real world impact. We work with companies and organisations on live project briefs developed to address a business need. Of course, every sector harbours the pretence that its practice is somehow 'special'; its industry unique; the challenges it faces specific and particular to them. In that sense the media industry is no different arriving with the same preconceptions common across all businesses. Most are not expecting researchers to create prototype media products modelling and measuring human responses to them; they are unprepared for the creative industries student teams charged with quickly assessing the viability of a proposed project; they're not ready to receive the insights from digital natives critiquing their current offerings. And they are certainly not thinking they might benefit from working directly in partnership with researchers who quickly demonstrate that what they do and the way that they do it adds value. And Australia is not alone in offering companies tax incentives for engaging university academics like those in our FASTLab team in Research and Development projects.
Our research focuses on human centred interactions.  It harnesses human imagination, empathy, cooperation, co-design, design thinking, visualization, playfulness and creativity. It enables a better understanding of the underlying systems of creativity, and motivations of humans. It provides new opportunities to respond to some of our most important challenges – like healthcare.
We know that healthcare costs are rapidly rising globally due to ageing populations, the increasing prevalence of chronic diseases, improved survival rates from acute trauma, rising treatment costs, and the widening gap in access to care between rural and urban communities. Healthcare costs in Australia alone are forecast to reach $36 billion by 2028.
Led by colleagues at the University of New South Wales, FASTLab is a lead research partner on a $24m Australian Research Council Hub For Connected Sensors. Our role is to co-design thinking with analytical rigor that enables the Hub team to get to creative new medical products and services quickly. Working across the Hub, our work is to design for humans and develop the next‐generation ultra‐lightweight and soft wearable medical sensor devices.
Whether working with communities, industry, NGO's or governments the FASTLab team knows that imagination is the foundation of creativity and innovation. Our experience, expertise and work with our partners and clients continues to demonstrate that we can all imagine 'better' – and once we have, we can change things so they are. Better for all of us and for the planet we're custodians of.
CONTACT POINT:
If you are interested in helping your organisation actively contribute to the sustainable transformation of society – or you'd just like to learn a little more about FASTLab Thinking you can contact me directly at:
Paul.egglestone@newcastle.edu.au
T: +61 2 4985 4545
M: +61 (0) 408 547 992
SaveSave
SaveSave
SaveSave
Tags:
academic Lab
academic research
industry collaboration
multidisciplinary