BBC News Labs: collaborative unit for media innovation and product development
Focused on speed and thorough analysis, BBC News Labs fosters and develops innovation in order to solve problems encountered by journalists in newsrooms, and research broader themes in media innovation.
The BBC News Labs was created in 2012 as part of Connected Studio, the pan-BBC Innovation Programme. Part of the world's largest broadcasting media organisation, it is a multi-disciplinary unit dedicated towards creating and developing projects in journalism, technology and data.
Its goal is to assess new technologies and evaluate their potential use within BBC News and media in general. The lab also analyses tech made either inside the BBC or outside it and keeps a strong connection between different departments within the BBC, including BBC Engineering and BBC Research and Development.
Partnerships and collaborations
The Lab maintains strong connections between the BBC and other external organisations, academic institutions and other media labs: "News Labs is a genuine partnership, and one of the reasons why we sat in a pan-BBC organisation is because we are genuinely co-funded and genuinely a collaboration between different BBC departments."
BBC News Labs partners with other departments within the news organisation, including BBC Research and Development, BBC Engineering and BBC Connective Studio. Together, all these departments analyse potential projects for software or prototypes and change them in order to fit the needs of journalists and improve the quality of news content provided by the BBC.
"The great thing about that is that we act as a bridge, so we'll provide two-way traffic between those three bits of the BBC that wouldn't normally talk much to each other, but in my opinion need to talk to each other," said Robert McKenzie, editor at the News Labs. "It's about building links with academia and with other parts of the industry to make sure that at a time of huge change the BBC was part of the more generalised, news and academic news thinking."
The primary contact strategy used by BBC News Labs in order to establish and maintain connections and collaborations with external partners is #newsHACK, which is a two-day event organised by the BBC News Labs, bringing together teams of news organisations members, academics and students to discuss common issues in today's media and find solutions for each problem raised.
In terms of connectivity with academia and students, BBC News Labs organises a special event called the University Challenge, in which journalism and computer engineer students from universities well-known for their journalism departments, work together as a team (one journalism student and one computer engineer student in a joint team) to solve a specific problem that targets both domains.
Projects
One of the projects that was launched partly thanks to the Challenge event is INJECT, a project initiated by professors from different departments within City University London, which focuses on developing digital creativity tools to improve the quality of news content.
The INJECT project brings together 14 partners from Norway, Greece, Netherlands, France, Germany and the United Kingdom and targets transferring new digital technologies to news organisations to improve the creativity and the productivity of journalists, in order to increase the competitiveness of European news and media organisations.
The project, worth over €1 million, has received a grant from the European Commission's Horizon 2020 and was launched in January 2017.
Looking at other work, one of BBC News Labs' successful internal projects was the News Switcher software, currently incorporated into the organisation's Content Production System. The Internet-based software allows BBC journalists in newsrooms to view the online versions of the BBC News website based on the desired device (mobile, tablet, laptop/PC) and desired country or area of publication and optimise the content published for those version.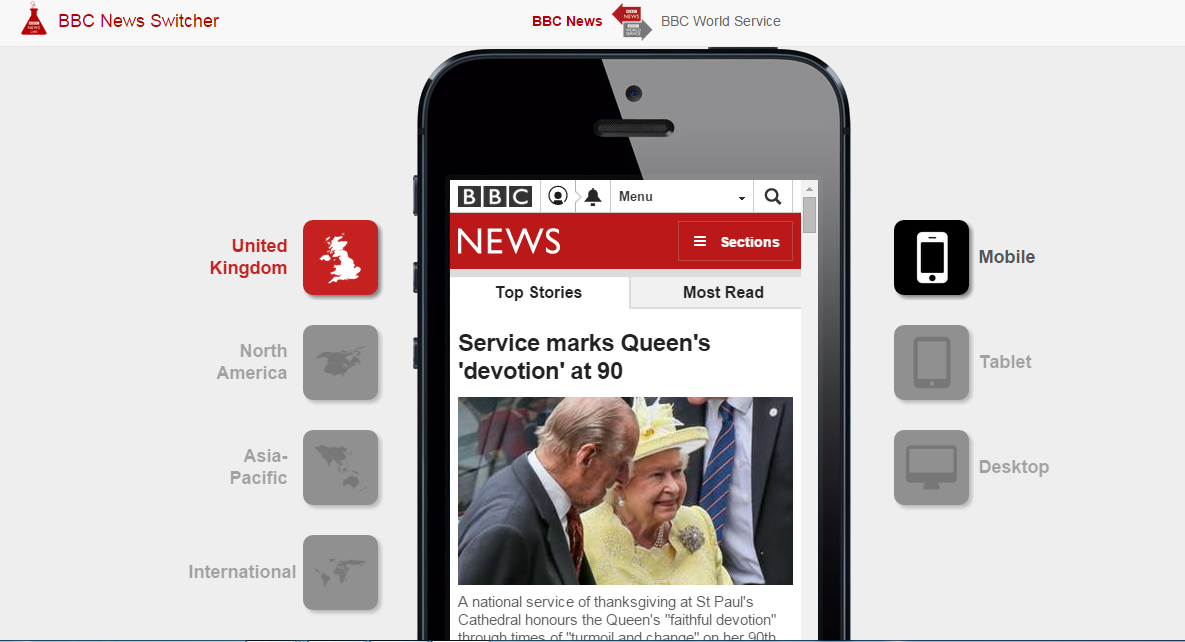 Other projects, which are currently being developed by the 15-member team, include Speech-to-Text software, Content Analysis Toolkit, which includes research into software and prototypes for facial recognition, voice recognition and text analysis, and the Object-based media project.
Object-based media focuses on transforming audio and video content into "objects" and tailoring the material sent to the public based on the technological capacities and qualities of the device on which the material is viewed on. Robert McKenzie gives more details about the project:
"At the moment, when you're putting together a radio or TV package, you assemble all the elements in an edit suite or on your desktop PC, you put all the bits together: the video, the graphics, the audio edits, the sound effects, the grading, the subtitles, everything else, you put it all together and you tie it up in a neat little, what effectively becomes a flat file. Object-based media takes the complete opposite approach."
He suggests that editors will "still assemble everything in their edit suite or desktop computer, but each individual element of that will be an 'object'". This means that the decisions on the sound effects, the quality of pictures and others will be dependent on the device that it's being displayed on.
McKenzie explains that if "your device says 'I'm a big, ultra high-definition television, 55 inches wide with a surround sound system in someone's man-cave, so I'm going to take the ultra-high definition list with the amazing graphics and the fabulous sound effects and the surround sound and all the colours and the textures the BBC can possibly do.
"But if you send that programme to somebody else standing outside on their mobile phone and it says 'Oh, I'm a mobile phone on a 3G connection, I can't see half these colours, I can't hear any of those sound effects, I don't need the grading, but I do need subtitles', it will assemble itself according to what your device is capable of dealing with."
Looking to the Future
McKenzie doesn't have strict deliverables and the Lab has the freedom and flexibility to explore a multitude of projects over the next year. However, he does predict that BBC News Labs will continue their work on their on-going projects and particularly focus on developments around object-based media.
CONTACT POINT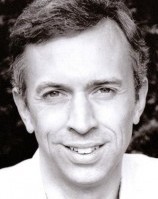 Robert McKenzie, Editor, BBC News Media Lab
Web: http://bbcnewslabs.co.uk/
Twitter: @BBC_News_Labs
Author
Journalism student at UCLan and intern on the Media Innovation Mapping project (summer 2017).

Tags:
academic collaboration
digital creativity
Hackathon
horizon 2020
internal innovation
media organisation
multidisciplinary
object-based media
partnerships
personalisation
prototypes
UK