Media Lab Days Munich: sharing best practices and brainstorming about looking outwards
The second edition of GAMI's Media Lab Days brought together Innovation Labs from print media, broadcast organisations, universities and the Bavarian filmcenter, hosted by Media Lab Bayern in Munich.

Host Lina Timm (Media Lab Bayern) kicks off the series of media lab and start-up pitches on Friday morning: "we want to help media companies have access to innovation; become the partner in innovation for media companies in Germany." How? By connecting them with start-ups.
Anders Kongstad (Børsen) explains why his newspaper decided to start working with start-ups: "We're the biggest and best in Denmark to do financial journalism, but we're running in one direction and have no clue about new technologies. We're just trying to do what we're doing better, but we have had a very one-sided approach up till now."
Other participants believe media companies should also work more with students, and are looking for ways to do this. Kim Svendsen (Stibo Accelerator): "I would love to discuss how we can better work with students. Because when you bring in students, you have a fixed period of time with super talented, really enthusiastic young people with one goal, to finish their education. And we can learn an awful lot of them."
Looking outwards
Inspiration from other sectors is introduced through a card deck. Katja Bundgaard and Mette Pedersen (Nordjyske Startup) brought Business Model Booster Cards for everyone:
"The Business Model Suite identified over 70 different business models worldwide. The idea is to check these against the business models that are actually present in the media industry, as inspiration for thinking about other options. We generally don't really get further than 5-6 business models."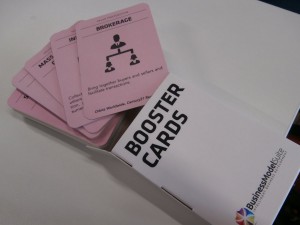 Kim Svendsen (Stibo Accelerator) explains how Stibo is fostering innovation by getting people from the media-part of the company and people from the retail-part of the company to work together in teams:
"Retail looks at innovation differently, because they don't have the monopolies on printing presses, transmission masts, etc. Supermarkets don's have those kinds of monopolies, so the way retail looks at innovation is much more agile."
Bringing together innovation labs from print media, broadcast media, universities and the Bavarian film centre led to interesting insights and ideas during the ideation sessions on Saturday. Of which one is to invite one or two non-media labs to the next media lab days and collect success stories from other industries to further facilitate this process of cross-industry collaboration.
In the afternoon, the group had the opportunity to not only visit Suddeutsche Zeitung, but also the IBM Watson IoT headquarters for some more external inspiration.
Working on challenges together
On the first day, participants were encouraged to share their questions and challenges on the Media Lab Bayern wall. This input was used the next day to brainstorm together about methods and concrete solutions for the labs.
In breakout sessions, the participants worked on topics ranging from 'what are the best innovation methods?' and 'how to work with students/other industries/the newsroom?' to 'what happens after the media lab?'
In the long run, many companies seem to plan to dissolve the lab as a separate entity and instead make innovation part of the whole company culture. What would be the form and or role of the media labs in that case?
Third Media Lab Days in the fall
"It's amazing to see for the second time that there's a real will to be together, to discuss stay in touch and exchange," says Stephen Fozard, GAMI Director and co-organiser. "By the end of the event I received three invitations of potential hosts for the third edition and we'll start planning together very soon."
—
The Media Lab Days on 2-3 February 2018 in Munich was the second live event connected to the ongoing Media Innovation Mapping project. Read about the 40 Media Labs we talked to so far or contact us to share your story.
—
Participants: Nordjyske Medier, APA Media Lab (Austria Presse Agency), Børsen, France Télévisions Lab, Stibo Accelerator, EPFL+ECAL Lab, SMWH, Medialab AFP (Agence France Presse), Södertörn University, Von Ort NRW, NDR – Norddeutscher Rundfunk, Roularta Startup Accelerator, NHST Media, Media Innovation Studio (University of Central Lancashire), Macroscope, NTNU, NxtMedia Norway, Media Lab Bayern, Bayerisches Filmzentrum and Théophraste (Sud Ouest Newspaper).
Tags:
Media Lab Days
Munich