This German startup allows you to get to know readers better and discover regional themes.
The German start-up offers a wide range of technologies and services for editorial and marketing purposes. The goal of "Mehrwertmacher" is to get to know readers better and to discover regional themes. For example, the start-up has a tool for live usage of data in their portfolio: directly via pen scanner and an app, readers give feedback to the work of journalists.
Another solution is a cross media multi-value auction: the young company brings retailer, publisher and consumer into a risk-free business, following the principle of "goods for advertising for money". The start-up also developed a solution for creating a responsive e-paper.
Their main product is Lesewert, that allows for live feedback from readers:
CONTACT POINT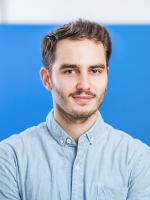 Johann Thiem, Productmanager Merhwertmacher
LinkedIn: Johann Thiem
Web: http://www.diemehrwertmacher.de/