APA-medialab: innovating journalism through prototypes and trend research
An interdisciplinary team of developers, designers, journalists, researchers and marketeers are working together within the Austria Press Agency to come up with ideas for new products and services and turn them into functional prototypes.
The Austria Press Agency is a cooperative owned by the 12 daily newspapers and the public broadcaster in Austria. It's different to other news agencies in the sense that it provides a variety of services to not only the media industry, but also to organisations in politics and economics that use their services in the fields of media intelligence, IT and communications.
They created the APA-medialab in January 2017 in an effort to improve the time to market of their products and to break down silos that existed within the news agency in terms of approaching topics of innovation. As part of the Austria Press Agency, the medialab has access to a strong tech team and a management team that is committed to innovation and is wiling to free up resources for the medialab to work on ideas and research:
"For example, at the moment we do a bit of experimentation with Virtual Reality as well as with voice-enabled media, with Alexa and Google home," explains Harald Mayer, APA-medialab CDO. "These do not directly lead to obvious business cases for a news agency, but everybody sees that these new devices will stay and somehow we'll have to get familiar with and understand them. So we work on them without working on concrete products that will lead to revenues very soon."
The APA-medialab consists of a relatively substantial team of 9 people working the equivalent of 6 full-time jobs. Those working on the lab part-time play a bridging role between the different parts of the organisation. Specifically, the medialab's editorial innovator, who is also working in the newsroom, reports back to the innovation lab about the needs that exist among the journalists. This led for example to the development of a speech to text application, since it turned out that journalists see the transcription of interviews as one of their most tedious tasks.
APA-medialab also sees itself as building bridges between technological innovation and the media- and communications field, that their clients are a part of. They believe media can be game changers if journalistic skills are combined with data and technology. The medialab aims to do trend research on technological developments that could be of importance for the media industry and turn them into concrete implementations for the newsroom, their owners and their clients.
Innovating through design sprints
At the core of the innovation process at APA-medialab are the design sprints. Once a month, the medialab team invites some people from the different relevant business units to work with some of their team members on a specific theme during five days. The teams vary according to the specific subject of the design sprint. When they did a design sprint on trusted content for example, it had a strong editorial component, while a sprint on media monitoring involved their subsidiary that provides those services.
Time is essential in this process. The raison d'être of the medialab is to identify new topics and to deliver (partially) functional prototypes within very short development cycles. Also, it's very user-centric, which is new within a big company like APA. Clients are brought into the design sprints on the first and last day and their input helps understand the usage and validate the solutions. According to Harald Mayer, it's quite easy to find people who are willing to participate:
"People are interested in getting involved with the medialab. Our CEO is very supportive and promotes what we are doing, so many people actually approach us. The topic of innovation opens new doors to dialogue with the outside world. At the same time, fully freeing people for a week of work with the medialab can sometimes be challenging."
Trusted content
The medialab's approach is unique in the sense that they are developing prototypes that are useful to the newsroom or their clients while at the same time doing trend research that's looking at technological developments and how they could be of importance to journalism in the future, like Blockchain and Smart Homes.
Special focus has been given to trusted content, paid content, infrastructure and big data. With the Austrian elections coming up next autumn, Harald Mayer is confident that one of their prototypes to combat fake news will be developed further quite quickly. This Source Check application offers editorial portraits of the news sites, blogs and Facebook pages consulted and automatically detects new sources that could be relevant, such as Facebook groups that suddenly go viral.
Best of both worlds
Editors and technical staff work together and they really complement each other, says Harald Mayer: "Some technical problems can only be solved by involving the experts who do the intelligence of the crawling and bringing them together with an editorial person who actually knows the users and is able to show us the limits of the editorial approach to classifying sources."
For example, with the Source Check application, the medialab started with categories like "trustworthy" or "not trustworthy" and the editor gave a more realistic idea of the actual approach in the newsroom. This is an entirely new way of working that was not very common within APA before.
So far, the APA-medialab is doing well. They have a good and continuous output of prototypes and they have become more confident in the application of the design sprint methodology. The results confirm the methodology and the participants are generally very positive about the approach. Although it's not easy for everyone to get on board right away: "Some people have a hard time to follow. It's an American methodology that requires a lot from people. For example, everybody needs to take an empty sheet of paper and scribble something within 20 minutes. It's not easy for everyone to buy into this method immediately."
CONTACT POINT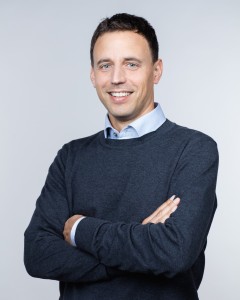 Harald Mayer, CDO, APA-medialab
Web: https://medialab.apa.at/
Twitter: @hmayer
—
Credits:
Featured image – Katharina Schell
Tags:
Austria
design sprint
news agency
prototypes
trend research
trusted content
UX