Ividence enables publishers to monetise efficiently one of their most valuable assets: their newsletter.
Newsletters have increasingly become a strategic platform, offering a direct access to readers' inboxes, definitely the most intimate connection channel and the best way to foster a strong relationship with prospects and customers outside the GAFAM walled gardens.
So far, though, newsletters have been hard to monetise, poorly served by mass advertising approaches. Ividence has developed a platform exclusively focused on the monetization of premium newsletters, generating unparalleled CPMs through its state-of-the-art people-centric targeting engine.
The technology pioneered by the company makes it very easy to insert display and/or native ad creatives in any template, using a simple tag, which triggers on the fly the rendering of a unique message that can be personalized for each and every recipient, leveraging the targeting power of the ultimate deterministic cross-platform identifier: the email address.
The combination of email-based people-centric targeting and advanced programmatic techniques (incl. real time bidding) opens up a wide range of use cases, at the crossroads of adtech and martech: marketing automation (for acquisition or retention purposes), retargeting (incl. abandoned cart recovery), time-sensitive advertising, etc.
Instead of broadcasting a single message to the whole list of newsletter subscribers, Ividence makes it possible to generate a unique creative for every single reader, which significantly improves the impact of the message, i.e. the average revenue per user (eCPM). It's a win-win-win situation: a better UX for the reader, more efficiency for the advertiser and higher revenues for the publisher. Moreover, newsletters expand publishers' inventory without increasing the advertising burden on the users.
Ividence offers the first SSP / adserver specifically developed for the email media. The company currently serves 150+ publishing partners reaching 20M+ unique readers on a monthly basis.
CONTACT POINT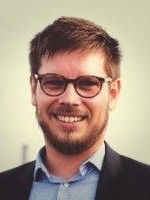 Arnaud Longatte, Business Development Manager, Ividence
LinkedIn: Arnaud Longatte
Web: www.ividence.com